NOTE TO READERS: Today we're introducing a new occasional contributor on Nerdvana. Lee Whiteside has been writing about science fiction and fantasy in various forms online since before the WWW existed. His website, sftv.org, keeps track of genre TV shows. He also is quite involved with organized fandom, having chaired CopperCons (16 & 23), LepreCons (28 & upcoming 36), The 2006 Nebula Awards, and the first North American Discworld Convention. And he runs the official Connie Willis Website at ConnieWillis.net.
Lee will be bringing us inside looks at fan conventions soon. Today, he brings us a look at Willis' new novel: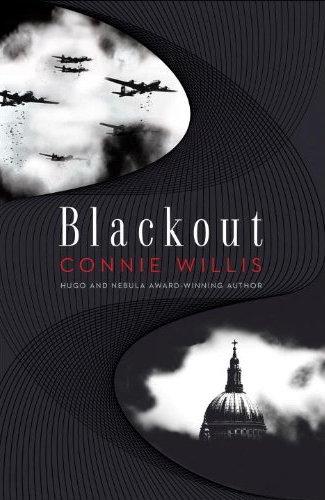 Feb. 2 sees the release of Blackout, the first new novel from award winning author Connie Willis since 2001's Passage. During the interim, Willis has published several pieces of short fiction, two of which, Inside Job and All Seated on the Ground, have won Hugo awards, keeping Willis on top as the recipient of the most Hugo awards, 10, of any science fiction or fantasy author. Blackout is actually only half of the novel; All Clear, being released this fall, is the second volume of the story.
Willis intended it to be one book, but as she got further into the novel, which follows several time-traveling historians during World War II, it kept growing and growing until she and her publisher, Bantam Spectra, agreed to publish it in two volumes, released relatively close together. Willis has even jokingly suggested that readers buy Blackout now, but shouldn't read it until All Clear is released and it can be read straight through as one big book.
In a message to her fans on her official website, ConnieWillis.net, she announced:
"I'm finally done with my two-volume time travel to the Blitz novel, Blackout-All Clear! Oh, frabjous day! Calloo, callay! Blackout comes out February second, and All Clear will be out in the autumn. And I'm done, I'm done, I'm done!

Okay, okay, I know I said I was done with the Blitz novel in the fall of 2008. And last spring. And this November. And it's still not done. I still have the copyedited manuscript and the galleys to do for the second volume, All Clear, and there are days when I think I'll never be done, that like Zeno's frog, I will just keep halving the distance to completion without ever getting there.
However, I am sort of done, and the first volume, Blackout, is coming out in February. Honest. I've seen the cover, the reviewers' copies have been sent out, and assorted booksignings have been set up. And, as my daughter so aptly put it, "If you're hit by a bus now, you don't have to worry about some hack finishing your novel."
Blackout is set in the same setting as the novels, Doomsday Book and To Say Nothing of the Dog, as well as the novella Fire Watch, which focuses time travelling historians from the University of Oxford in the mid-21st century under the leadership of James Dunworthy. In Blackout, three historians go back to 1940 England in the early days of World War II. One is going to observe children evacuated to the country, another to London to observe the Blitz while working as a shopgirl, and another to research the evacuation of Dunkirk by observing the rescuers and rescuees as they arrive in Dover. All three of them quickly have difficulty reporting or returning to their present when problems arise with their "drops" and find themselves in much more dangerous situations than they expected or were prepared for with no sign of an anticipated rescue team. While we see things from the perspective of the future as the three prepare for their missions, as things progress and get worse, the historians and the reader begin to wonder if they've done something to affect the timeline and change the future enough such that they do not have any hope of rescue. Of course, we'll have to wait for the second half, All Clear, to find out.
The amount of research Willis has done on World War II is very evident in the novel. At one visit to The Imperial War Museum, while Connie was out looking around, her husband, Courtney Willis, came across a group of women meeting at the museum who had experienced the Blitz as rescue workers, ambulance drivers, and air-raid wardens. He sat them down with tea and cakes while he went to find Connie so that she could have a chance to talk to them about their experiences. As she shows in the book, historical research is especially important to the time travelers and it can make things very bad if it is incomplete or inaccurate.
Willis is doing a promotional tour for the release of Blackout, with stops in Denver, San Diego, San Francisco, Seattle, Houston, and Beaverton over the next couple of weeks. She will also be honored on Feb. 9 with a Book Reception at the University of Northern Colorado's James A. Michener Library in Greeley, Colo. Willis will be announcing the donation to the university archives items for a Connie Willis collection. The collection will include her manuscripts, library editions of her own books, research for a number of her projects and her numerous awards. Full details on the book tour and the collection donation can be found at ConnieWillis.net.